Custom Software Custom software for any application
do you know where your parts are?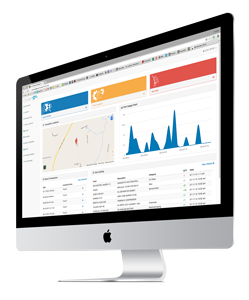 Welcome to Orderbook.
the last stock management took you will ever need.
OrderBook is a new inventory tracking and ordering platform built by Mypointnow and offered through participating HVACR Wholesalers. OrderBook is built for residential or commercial service companies that need to manage mobile inventories and dynamically track parts usage in the field. OrderBook is designed to maximize the performance of your business inventory and truck stock. If your company specializes in field repair and service check out OrderBook.
Automated Mobile Based Inventory Management and Replenishment.
It's simple. You use OrderBook on your mobile phone or tablet. OrderBook connects you to your inventory and tracks your parts usage as you work. It also can connect you to your suppliers complete parts database so you can find the parts you need fast, source it efficiently and get back to work. It shows you everything you want to know about your stock, your day, and the items you need to replace.
Set-up re-order parameters and OrderBook will automatically place re-stock purchase orders with your supplier.
OWNERS
OrderBook shows you what inventory you have, where it is, how much you need, and what you need to re-order. Whether you have one truck or fifty OrderBook will help your techs keep track of their truck-stock so that you eliminate the overhead and excess travel associated with chasing needed parts that should have been on the truck. It also can accurately track parts usage: how many and where every item that comes off your vans was used.
MANAGERS
OrderBook can offer a birds eye view of what's going on, what people are doing and where. It automatically gathers and displays where your service techs are working and what inventory is being used.
TECHS
OrderBook is simple to use and will eliminate paper-based inventory and purchase order systems. Have the parts you need when you need it so you can get your work done.
FEATURES
Truck Stock Setup
identify and maintain the items you need in your mobile inventory. Customer part number integration


Part Integration
Customer part number integration


Bar Code Reader
Bar code reader and bar-coded parts label printing templates


Job Locator
You can upload your customer list so you know when and where each part is used based on OrderBook's GPS checkin system.


Inventory Tracker
Record inventory usage on each service vehicle, and in consolidated form on our Google Chrome based Administrative Command Center.


Team Manager
Set-up you system users, shipping locations, and supplier locations.
Purchase Manager
Manage your re-order cycles. Control your shipping locations and usage histories for the parts you use.


Sell-Price Calculator*
Use our optional V-Price system to set parts mark-ups and calculate sell-prices for your field personnel.


Document Locator
Access documentation on over 260 HVACR manufacturers.


Reporting
Create inventory, sales, and purchasing reports during any time interval for any team member.


Desktop Command Center
Have all these tools, plus more, expanded from your mobile device.


*coming with Version 2.0