The Mypointnow Network is more sophisticated than ever before
We build lead generation and web platforms for contractors, service pros, builders, plumbers and anyone else in the HVAC-P industry. Our websites are unmatched in the industry and unlike the other guys we didn't build websites for a daycare, lawyer and dentist last week. We were born in the HVAC industry and we can craft your 24/7, 365 representation better than anyone else.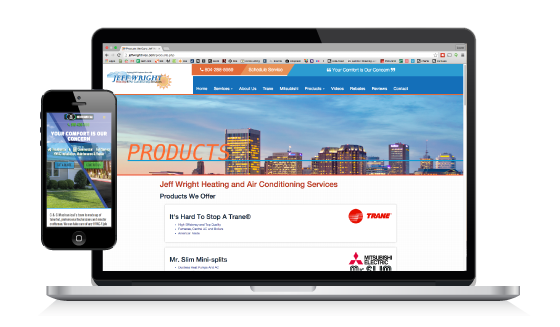 | | | | | | | | | | |
| --- | --- | --- | --- | --- | --- | --- | --- | --- | --- |
| | Custom Theme | Smart Contact Form | Registration System | Review System | Mobile Theme | Traditional SEO | Full Project Pages | Rebate Database | Custom Content |
| Mypointnow Custom Site | | | | | | | | | |
| Word Press Site | | | | | | | | | |
Custom Theme and Navigation

A new custom theme will be developed in the color scheme of your company
This theme will properly and clearly distinguish the commercial and residential service categories. Further, the site will clearly display installation/service/repair categories with sub menus.
Our graphic artist will create custom imagery. These will be added in a slide format to the homepage representing your company
Buttons and customized calls to action will be developed to properly drive potential customers to lead/contact forms.
Smart Contact Form

An intelligent contact form will be used throughout the site.
This form uses specialized software to detect whether the user is human or automated. This means potential customers will never have to fill out captcha forms for security and no automated spam will make it through.
Registration System

This is the most effective lead generation system in the PHVAC­R business.
The site will use a fully integrated registration system for building organic search engine traffic. Data entries allow your company to reach every corner of the market for all the services provided in a cost effective manner.
Review System

With every registration record, an automated email is created thanking the customer for their business and solicits feedback on installation or service provided .
Reviews are posted in real time from the automated email system or manual entry on the front side of the site.
This system uses microformats universally recognized by google and bing and will appear in the search engine results.
Mobile Theme

This site will be equipped with a mobile­friendly theme.
A mobile theme is visible on smaller devices and allows customers to quickly and easily navigate the site. This reduces customer frustration and bounce rates while increasing the ability for quick communication to be made from a mobile device.
Traditional SEO

All pages will be titled with relevant information in accordance with industry guidelines to aid in site performance.
Meta tags and descriptions will be added.
Full Product Pages

Full access to robust product pages for every unit carried.
We have a database containing over 300 manufacturers. Full information is given to ensure a potential customer has no reason to leave the site.
With the rise of dealer locators on manufacturer websites this feature is even more important. Why link to a manufacturers site only to have the customer find your competitor?
Rebate Database

There will be access to a full rebate database to display on the front side of the site.
This gives potential customers access to local and federal rebates and incentives. The format shows provider, item description and restrictions.
Previous and Current Content

All content from both current sites will be reformatted and relocated to the new site.
Following a content meeting any new features, pages or other content will be built/added.
---
Don't annoy your leads:
Captcha Free Contact Forms
Let's face it, Captcha drives us crazy! But our website's Contact forms utilize a less annoying approach.
Used throughout our sites, the intelligent contact form will detect whether a user is human or automated. What does this mean to you? Well, the customers you've worked hard to get won't run because they have been annoyed by a capture form.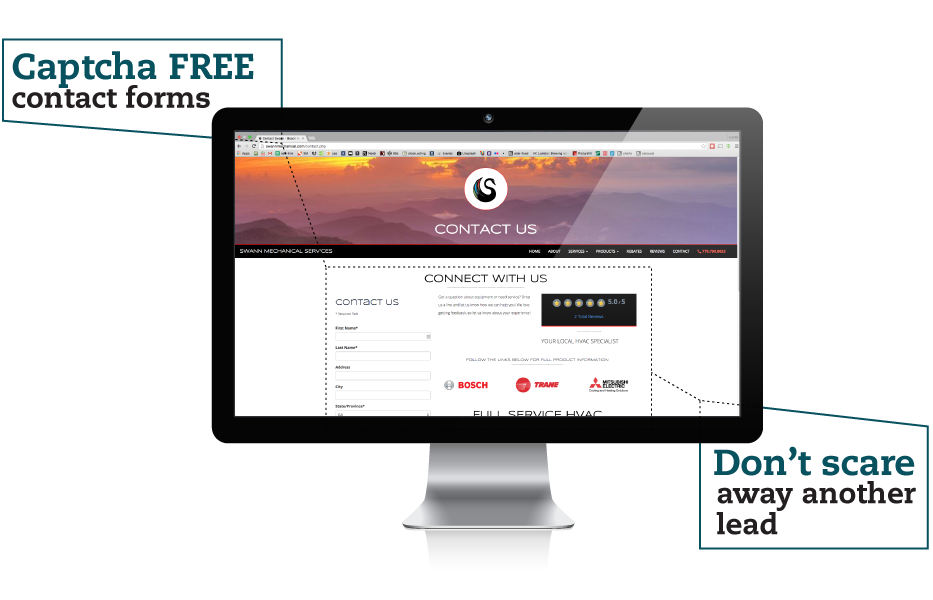 ---
---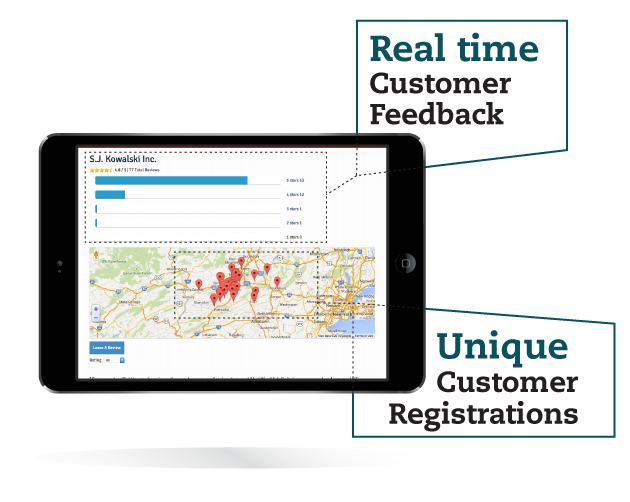 Know who's a Customer and what they think:
Registration and Reviews
How do you boost your business' search performance? By Doing business!! Our site's are designed to keep the ball rolling. Every time you install or repair equipment our unique registration system allows you to associate the unit with it's customer.
When you create the registration record, your customer receives an automated email thanking them for their business and solicits feedback on the installation or service you provided.
When your customer fills out the review a few things happen. First the review is posted to the front side of the site in real time from the automated email or manual entry from the site providing a trustworthy score of customer approval. Secondly when each individual review is created it populates another automated page which are picked up by major search engines like google and bing, bringing your ranking to the top in your region.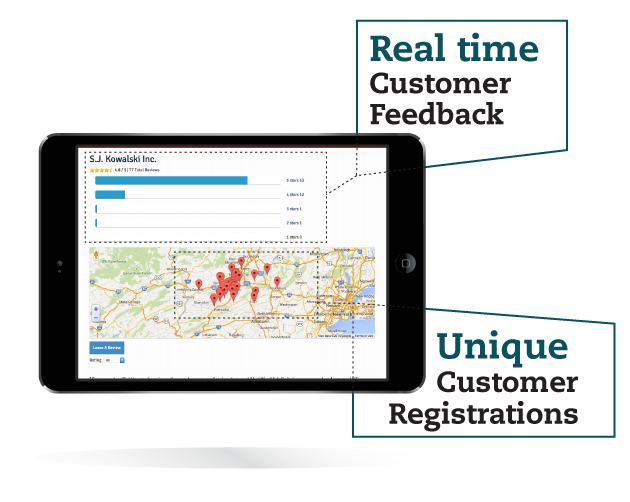 ---
Keep your Leads interested:
Call-to-action and Data-driven Product Pages
When a potential customer visits your site they will get the full experience! On arrival they will be greeted by various calls-to-action. These are visually appealing features of the site (slides, social media connections and professional associations) created to develop a positive reputation and increase a user's interest in your services.
The call-to-actions are designed to lead a user to the robust, data driven product pages that are populated with real manufacturer's product data, giving your customer the information they need developing the relationship you want.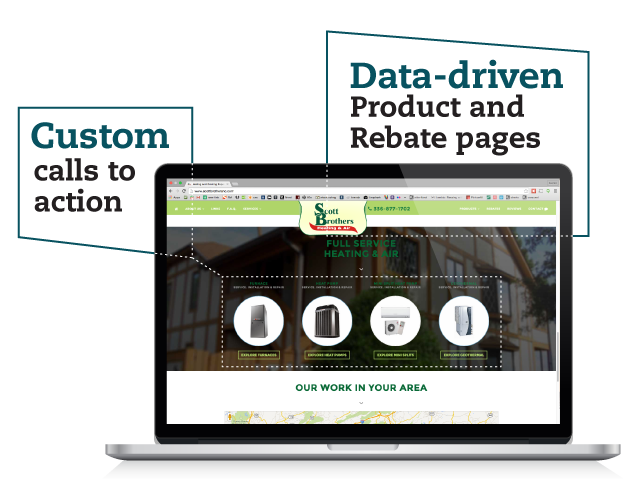 ---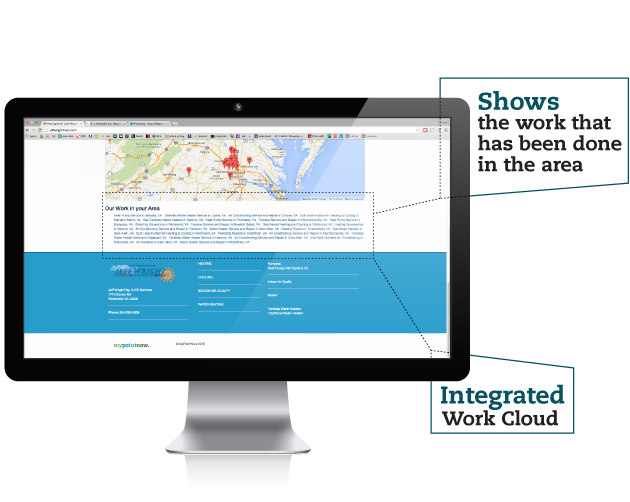 See the work in your area:
Work Cloud
Reach every corner of your market. Along with the registrations you enter creating an opportunity for review, they also populate a list of the areas in which you have worked and what kind of work you did. Just like the individual reviews creating automated pages that search engines use to push you to the top, with every registration you make the closer you are to reaching #1 on the search list.